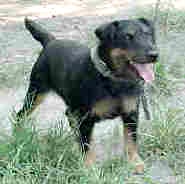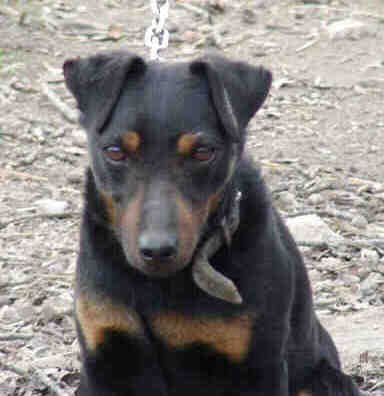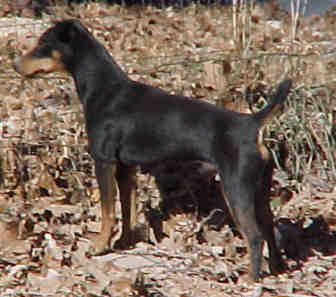 I would like to introduce you to Mity-Mite of Jones Knite Hunt and some of his family

Mighty is the most awesome intent male we have. He has a nose on him them it out of this world and the drive that won't quite. When Mity was born he was a mess. A little scrawny thing that I just fell in love with and that is how he became my boy. I never worked him of blood tracking and when he was 1 1/2 yrs old I got to see what he could do. One of the hunters hit a deer while bow hunting and could not find it. He came up to the house after dark in a misty rain and said he had one down but would have to wait till the next morning to see if he could find it. He had already looked for about a hour with no luck before dark. I loaded Mity up with flashlight in hand and we went back to the bloody arrow. Oh how Mity loved that blood when he licked if off the arrow. I told him to find the deer and he worked and worked the blood track before he straightened it out and in 45 mins we found the persons deer. Mity made this person one happy bow hunter and come to find out it was the first deer with his bow he ever got.

Mity-Mite of Jones Knite Hunt

Mity-Mites father

Our late and Great

Dacks of Jones Knite Hunt

aka Dacks v.d. Knite Hunt

Mity-Mites mother

Zena v.d. Knite Hunt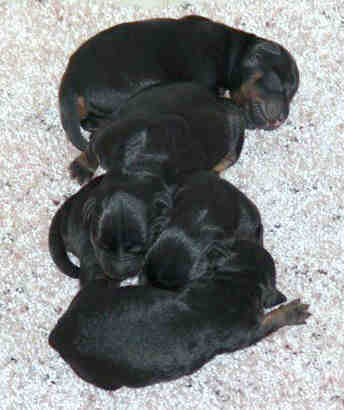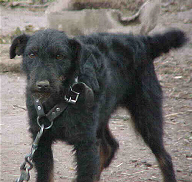 Fly of McDonough

aka Fly von McDonough

Fly and Mity-Mites family. Born March 23, 2007. We are so proud of this litter. 2 males and 2 females and real nice strong healthy pups. One of the males is staying right here. His name is Black Mamba of Jones Knite Hunt.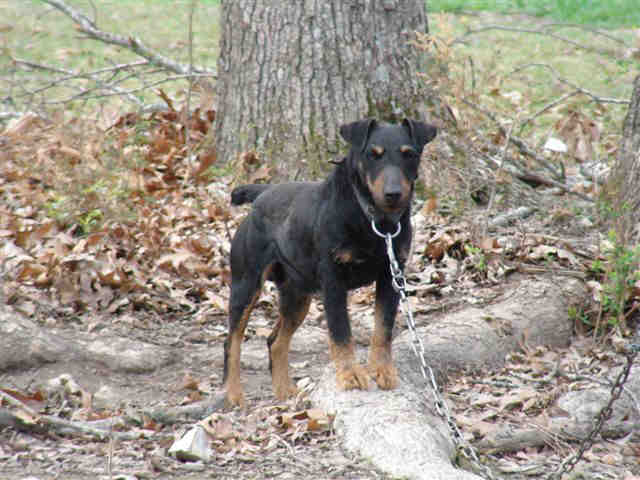 Graf II v.d. Knite Hunt

Zenas brother

That track was only about 2 hours old when Mity was put on it. The next weekend Jack came up and got Mity to find a deer that he knew the blood track was just over 15 hours old. Jack thought the deer went one way and Mity kept says "no it went the other way". Jack let Mity go and yup, you guest it, Mity was right. He went down one way, up and over a old road and down in to a holler and their the deer laid. Mity was so happy about his "find" and Jack sure was to. So you can see he has the nose and drive it takes when needed. Anyway I wanted to tell you a little about my Mity-Mite.

We lost Mity-Mites daddy in the ice storm we had in the winter of 2007. It was a huge loss loosing Dacks of Jones Knite Hunt. Dacks had produced top notch Jagdterriers in his lifetime. All his offspring where top notch blood tracks and driven Jagdterriers. When we lost Dacks we decided to give Mity a try on siring a litter of pups. We bred him to Fly. Fly had always been bred to Dacks in the past and we knew that if Mity fathered any pups they would be great like him. Mity carries our old Russian blood line on his mothers side. Mity's mother is out of Rulin's Lesa and Rulin's Graf.